Work to be featured by Saidhbhín Gibson in the forthcoming 'The Space Between' International lace exhibition, Headford, Co. Galway, October 2020.
Arid.Pillowed.Life (nos. 1 - 5), 2018, comprises of five needlepoint lace appendages made to temporarily
conceal cavities and scars on the pads of the Prickly Pear cactus plant. This site specific and performative
action took place in Arizona.

We, together with everything that lives, always receive much more from plants than we give back to them, because plants breath for all animals and human beings without exception.
Michael Marder 'Through Vegetal Being' 2016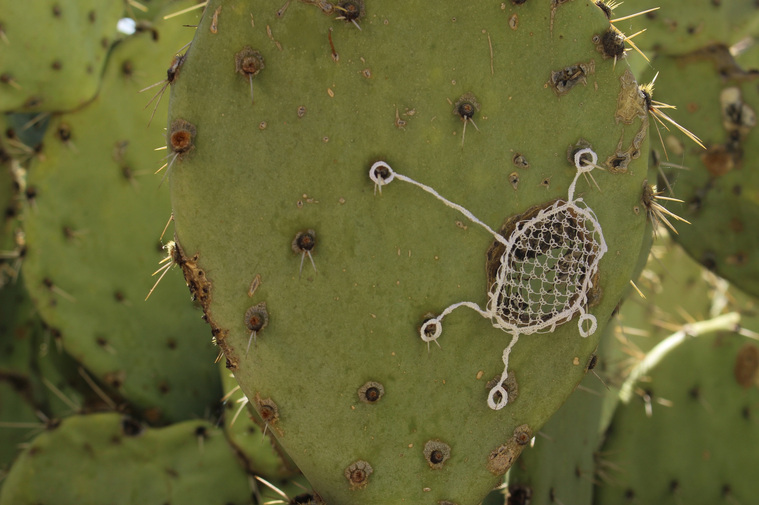 Saidhbhín Gibson 40 Assorted Dressings for the Prickly Pear

Cotton, brass pins | 65cm x 80cm | 2020
'Connected' Kilkenny Sculpture Trail
August - 20th October 2020

40 Assorted Dressings for the Prickly Pear comprises of forty needlepoint lace pieces incorporating twenty different lace stitches. The work responds to interconnectedness, ecology and tending to the planet in a caring approach.
This piece presents a notional scenario whereby dressings have been specially made for injured parts of a plant; akin to buying a packet of 40 assorted plasters for cuts and bruises. The work is part of an ongoing exploration into the framing of the non-human world for and by contemporary society. Humans would take more urgent action if humans were at the edge of extinction.

Saidhbhín Gibson Ruff for Collars (nos.1 - 5)
2017 | Cotton, oak (Castlecomer, Co. Kilkenny) | 24cm x 20cm x 5cm
2017 RDS Craft Awards Exhibition - Eleanor de la Branchardière Award
Saidhbhín Gibson As little as possible and as much as necessary (1 - 10)
2014 | Cotton, holly leaves (Celbridge, Co. Kildare) | 25cm x 25cm x 3cm

The Cabinet of Wonders No.2 Linenhall Arts Centre, Castlebar, 2016
Interlace National Design & Craft Gallery, Kilkenny, 2014
Saidhbhín Gibson As little as possible and as much as necessary (17-27)
2014 | Cotton, holly leaves (Celbridge, Co. Kildare) | Size variable

2014 RDS Craft Awards Exhibition - DCCofI Award

Saidhbhín Gibson Don't stop til you get to the end
2013 | Bedrock (Co. Carlow), cotton | 21cm x 21cm x 9cm